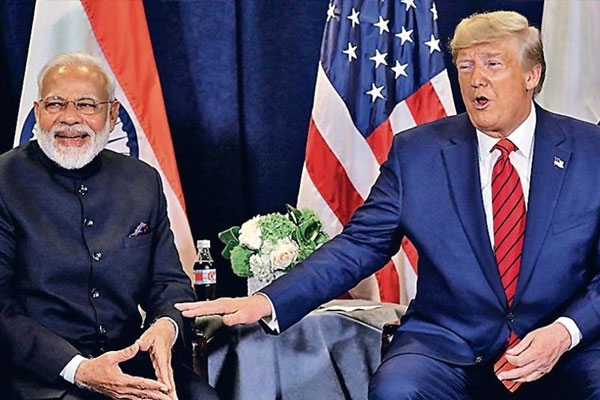 (Image source from: Hindustan Times)
During a joint media interaction of Prime Minister Narendra Modi and President Donald Trump on the sidelines of the United Nations General Assembly on Tuesday, President Trump called PM Modi the 'father of India'.

"I think we can call him (Narendra Modi) Father of India," Trump said.

When media asked about Trump's take on Kashmir issue, the president distanced himself from any mediation between India and Pakistan while calling on both Modi and Pakistan Prime Minister Imran Khan to turn out well on a solution for the issue.

"These two gentlemen (Modi and Khan) will get together and work out something," said the president.

Trump's remark came a day after he met Khan and offered to mediate on the Kashmir issue.

Tensions between India and Pakistan ascended after India revoked Article 370 of the Indian Constitution, which provided special status to Jammu and Kashmir, on August 5.

Trade Deal

Talking about the trade deal, Trump said his country would soon have it with India to boost economic ties between the two nations. "We are doing very well ... I think very soon we will have a trade deal," he told reporters.

India and the United States are holding terms on a trade package to iron out issues and promote the two-way commerce.  

The bilateral meeting between the two leaders comes two days after Modi and Trump shared stage at the 'Howdy Modi!' event in Houston during which they addressed over 50,000 Indian Americans.

At the meeting, Modi was accompanied by External Affairs Minister of India S. Jaishankar, Commerce Minister Piyush Goel and Foreign Secretary Vijay Gokhale. Secretary of State Michael Pompeo was present in the United States delegation.

"PM @narendramodi and @POTUS @realDonaldTrump meet on the sidelines of the @UN session in New York. This comes days after both leaders were together at the #HowdyModi programme in Houston," Prime Minister's Office tweeted.
PM @narendramodi and @POTUS @realDonaldTrump meet on the sidelines of the @UN session in New York. This comes days after both leaders were together at the #HowdyModi programme in Houston. pic.twitter.com/fgNd5eX7WN

— PMO India (@PMOIndia) September 24, 2019

By Sowmya Sangam