Tax Day: Indian American Congressman Ami Bera Offers to Help Sacramento County Locals
April 16, 2019 05:37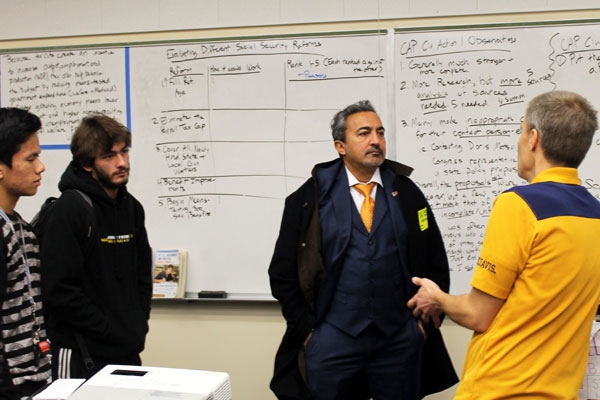 (Image source from: The Kennedy Clarion)
As April 15 marks the Tax Day in the United State it would probably be a stressful day for scores figuring about the taxes and calculating about the refunds.

Nevertheless, Indian American Democrat Ami Bera, the U.S. Representative for California's 7th Congressional District, has offered to extend help for any of the families residing in Sacramento County who may be having any issues with the filing of their taxes.

The congressman, who has represented the area since 2013, announced on his Twitter handle that his office eager to help in whichever way it can. His office has also been sending out flyers to locals about it.

Bera says that particularly this year, the new federal tax law may make it more challenging for many families to figure out the tax filings.
⏰#TaxDay is just around the corner!

Have any questions or concerns? My office is here to help: https://t.co/DKww0zghq0 pic.twitter.com/X3w4nMSaSl

— Ami Bera, M.D. (@RepBera) April 11, 2019

The Indian American congressman was quoted by American Bazaar citing an example of a local doctor, named Steve, who was helped by his office through delayed tax returns. Steve, who is from Sacramento, had filed his taxes in March, well ahead of the filing date, and was to receive a substantial refund. However, two months later, he faced a confounding situation when the Internal Revenue Service told him that his tax return could not be processed until he provides more documentation, such as proof of identity, multiple past tax returns, including an in-person return.

Steve, a busy surgeon who found himself unable to keep up with the new demands, contacted the congressman's office. It helped him by following up with the IRS and resolving the issue.

Besides this help that Bera offers to provide to his county residents, his office has also been educating the people about the taxpayers' rights. Everyone that disagrees with an IRS decision is entitled to appeal the decision before an independent board.

The office also informs that, even though the tax filing day is April 15, the IRS does provide a few ways in which one can apply for an extension.

From IRS's Free File initiative, which gives local taxpayers options to file for taxes free, to free tax preparation help, if you are residing in Sacramento and struggling with your taxes, you can avail of the help offered by Ami Bera.

Any taxpayer worries can be directed to Ami Bera's office at (916) 635-0505.

By Sowmya Sangam