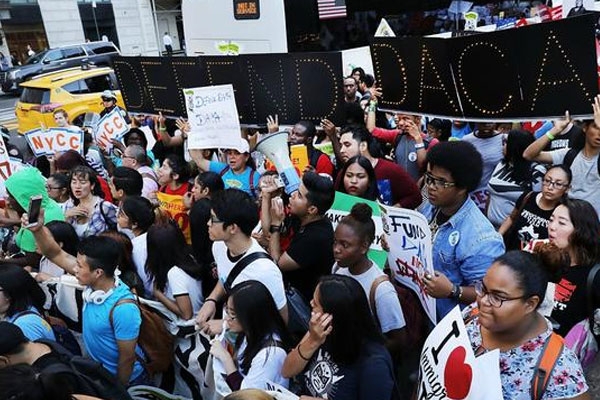 The possibility that protections for young people under DACA program can come to an end has triggered sharp Outcomes from Bay Area Politicians.

House Minority Leader Nancy Pelosi, Sen. Dianne Feinstein and San Francisco Mayor Ed Lee lashed out at the president on Monday after they heard that Trump is planning to stop the DACA program with a six months delay.

DACA program has given around 8,00,000 young undocumented immigrants the opportunity to stay in the country and work legally in U.S with two years renewable work permits. This program was initially started by Obama.

Congress is expected to use this six- months delay period to decide whether it want's to address the status of the legislation.

Pelosi issued a statement on Monday urging leaders of Congress to protect those directly benefited by the program. Part of her statement read, "President Trump's decision to end DACA would break the hearts and offend the morals of all who believe in justice and human dignity".
.@realDonaldTrump's attack on #DREAMers is pure political cowardice. Congress *must* #ProtectDREAMers! https://t.co/ZwL1LeypdA pic.twitter.com/bptIMp4PA9

— Nancy Pelosi (@NancyPelosi) 4 September 2017
.
Lee in his statement said, "That doing away with DACA would continue to divide our community and tear families apart".
Over the past 5 years #DACA has helped protect, uplift & support immigrant youths & families across our nation. #DefendDACA pic.twitter.com/J19xQ3rWYA

— Mayor Ed Lee (@mayoredlee) 3 September 2017

Feinstein also took to twitter and pledged her support for DACA. "There are more #DACA recipients in California than in any other state," one of her tweets read. "We stand with them. We have their backs" #HereToStay".
#DACA recipients have done everything that the federal government has asked of them. They don't deserve to live in fear. #HereToStay

— Sen Dianne Feinstein (@SenFeinstein) 2 September 2017

Dava Cortese, the president of the Santa Clara County Board of Supervisors, said that agencies are already gearing up to assist the county's estimated 20000 Dreamers.    

By A.s