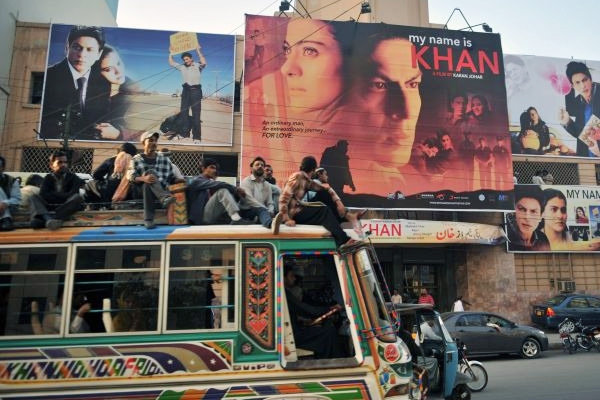 (Image source from: www.scoopwhoop.com)
Days after India banned Pakistani actor and artists from its film industry in aftermath of terror attack in Pulwama district in Jammu and Kashmir leading to death of over 40 Indian security personnel, now Pakistan has placed a ban on the screening of all Bollywood films in cinemas across the country after Indian air raids further escalated tensions between Indian and Pakistan.
Pakistan's Film Exhibitors Association decided to boycott Indian content, Fawad Chaudhry, the country's information minister, said on Tuesday in the wake of air attacks by Indian forces near the border with Pakistan-administered Kashmir. 
"No Indian movies will be released in Pakistan," he wrote on Twitter.
Cinema Exhibitors Association has boycotted Indian content, no Indian Movie ll be released in Pakistan. Also have instructed PEMRA to act against Made in India Advertisements. #PakistanTayarHai https://t.co/9BPo6LIsVB

— Ch Fawad Hussain (@fawadchaudhry) February 26, 2019
Chaudhry said he had also instructed Pakistan's Electronic Media Regulatory Authority (PEMRA), against airing Indian advertisements on Pakistani TV channels.
"In light of the prevailing situation, and in solidarity with the government, the film exhibitors fraternity has volunteered to focus on local content till the normalization of the current situation in the region," Zoraiz Lashari, chairperson of the Film Exhibitors Association, said in a statement.
"We believe art and film is a universal language that transcends borders and brings people closer. We hope we can all play a positive role in reducing tensions, and supporting policies that bring peace and prosperity to the people of the entire region," he added.
Tensions have been high between India and Pakistan since the Pulwama attack on February 14. Pakistan has denied any involvement and warned India against linking it to the attack.
Announcing a ban on Pakistani artists and actors the Indian Cine Workers Association stated: "If any organization insists on working with Pakistani artists, it will be banned by AICWA and strong action will be taken against them. Nation comes first, we stand with our nation."
Earlier this year, Pakistan's Supreme Court reinstated a ban on the transmission of all Indian content on local TV channels. Last month, an Indian event management company pulled out as the official producer of Pakistan's T20 cricket league.
Digital coverage of the ongoing Pakistan Super League tournament has also been blocked in India.
-Sowmya Sangam